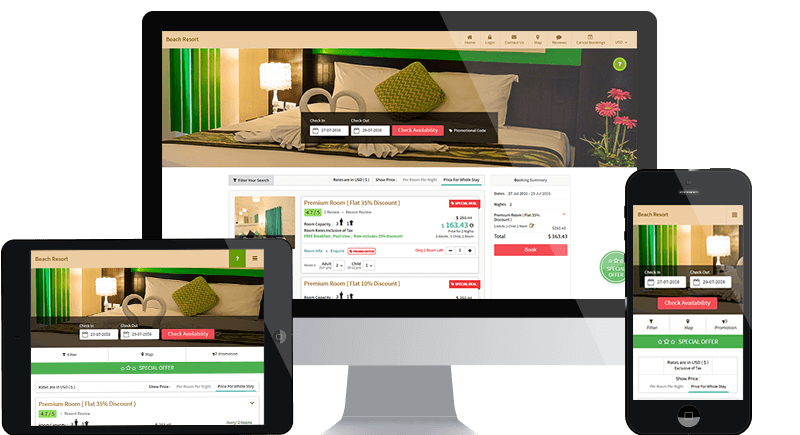 Hotel Website Online Booking Engine
The surest way to accelerate your direct bookings and increase hotel revenue!
Powerful, Flexible & Easy to Use Online Booking Engine
Our hotel booking engine offers your guests a quick and smooth reservation experience requiring minimum efforts while using their PC, smart phones or tablets. Generate higher revenues by allowing your guests to avail special offers, promo codes and ability to do group bookings.
Walk that Extra Mile, Interact with your Guests Before, During and After Stay
Boost your guest engagement with the help of our pre-arrival, in-house & post-departure email service. Promote local attractions, exhibit hotel services, collect guest feedback and thus encourage personalized communication and build guest loyalty.
Hotel Rate Management Made Easier with eZee's Cloud Solutions
To create the perfect pricing strategy that retains the desired profit margins and growth, you require a tool which gives you the freedom to revise rates according to the changing scenarios. eZee's rate management tool gives you access to comprehensive market behavior analysis to efficiently manage hotel revenue and increase returns. In addition, the management tool can even fetch competitors' prices for comparison by which you can tweak your rates for maximum profits. To give you a further edge in your pricing strategy, you can even compare previous year's date to evaluate the Best Available Retail Rate (BAR).
Statistics, Reports & Logs
Starting from reservation and cancellation to all revenue-related reports, the multitudinous reports of eZee hotel booking system provides you an all inclusive break-down of all hotel operations including reservation statistics for Mobile, Desktop and even Facebook. Additionally, the online booking system provides you with a summary of all important data in the form of user-friendly charts and graphs directly visible on the dashboard. Taking the booking source in account, the system easily gives you an immediate statistic for reservation summary, current booking information, occupancy level, and daily/weekly/monthly revenue.
Furthermore, the system records each transaction that occurs in the system, along with the information of the user who is accountable for the transaction.
Optimize your Bookings with Ready API Integration
Aiding designers and developers to optimize your property website, eZee's online booking system offers various readily available APIs that integrate with your website with ease. Offering an exquisite booking experience to your guest, our ready to use APIs allow you to display your hotel's rates & inventory, hotel amenities, hotel listing etc. on various front-end of your choice such as hotel's website, your Facebook page etc.
This is available for those hotels or chain hotel groups, who wish to build their own availability page, utilizing the rate and availability information provided for their properties.
Central Reservation System
Eliminating the hassle of managing multiple user logins, the Central Reservation System provides you all important information under a single panel. Streamlining operations for multiple hotel properties, the CRS gives you centralized access to rates, inventory and bookings of all your properties. Additionally, the toggle feature allows you to switch between different properties making it easy to manage rate and inventory of all of the properties.
Get your free trial account,
No Risk | No Credit Card | No Commitment required