Ready Plug & Play Widgets
Booking Box Widget That Suites Your Website
eZee offers you complete freedom to customize the system to match the look & feel of your hotel's website. Therefore, guests would not feel that they have landed on an anonymous page or feel alarmed of any possible spam and can easily process the online booking without any hassles. Furthermore, the system allows you to set up your own search criteria in order to strategize visibility of hotel amenities to offer a specific experience.
Booking Button Widget Identical to Website
We do pay attention to the minute details. eZee's booking engine not only allows to customize the booking page, but it can even design the booking button matching your website decor.
Iframe Widget
Adding to the advantage, you now get iframe widget with the booking engine. With the automatically re-sizable iframe button, the guests can directly make the booking without leaving the hotel website.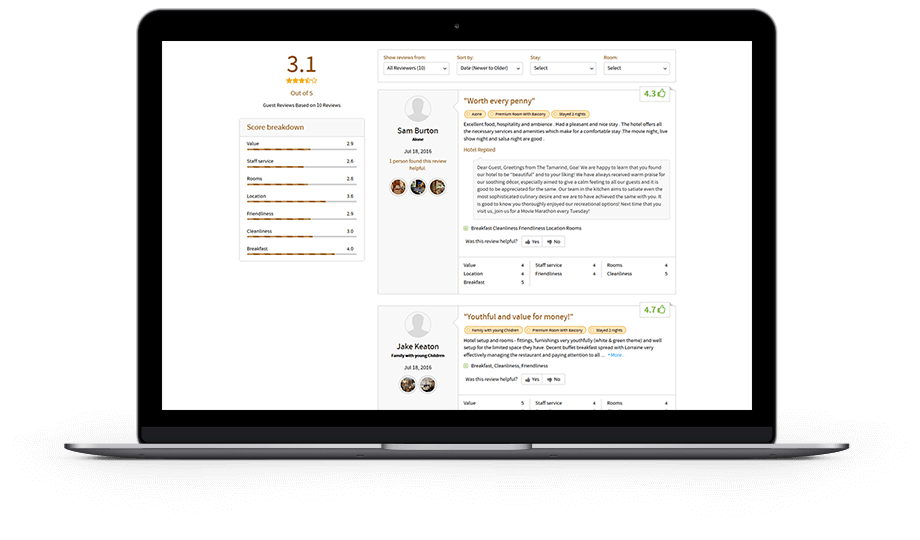 Review Widget
The review widget allows the hotel to publish guest reviews on the hotel website as a part of branding. As the booking engine seamlessly incorporates with the hotel's website it automatically publishes the reviews online, provided you approve it.
Total Bookings Widget
eZee Reservation gives you an opportunity to put in the billboard effect on your website. It tracks all the bookings done through the system and allows you to exhibit your top-ranking figures which will attract more direct online bookings.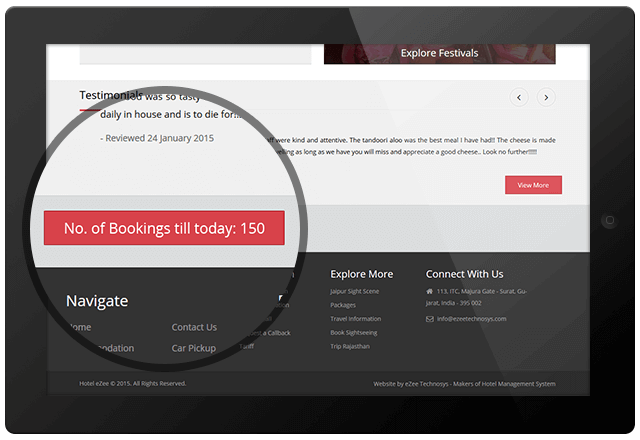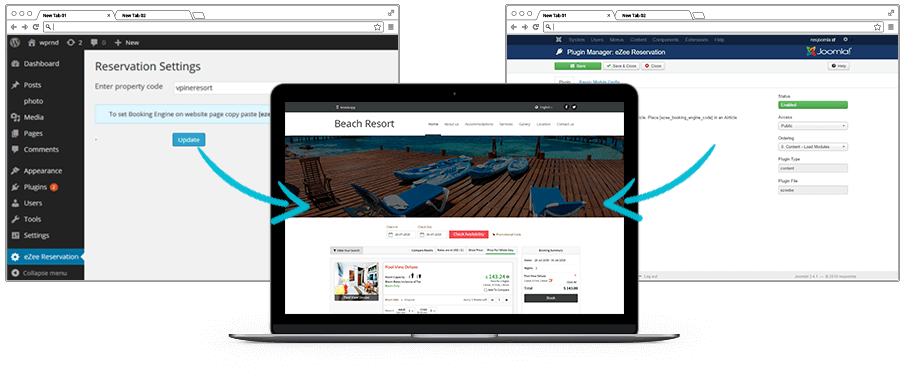 Utilize eZee Booking Engine for WordPress Website Users
WordPress is one of the most popular Content Management Systems in the world, for which we provide a WordPress Plugin for eZee Reservation. The plugin will allow you to embed eZee Reservation on your WordPress website, simplifying the reservation process and bringing a new level of proficiency to your service.
Easily Accept Online Bookings from Your Joomla Website
Joomla! hosts the platform for millions of website. Using the Joomla! extension for eZee Reservation, you can easily integrate the booking engine with your property's Joomla! website and start accepting online bookings directly.
Easily Accept Online Bookings from your Website
All eZee aims is to simplify & standardize your business. Confirming that we have already established Plugin extensions for a majority of the Content Management Systems, we streamline the process of receiving online bookings from your website.
Following Plugins are available
Don't Believe Us? Try it Yourself!