The 360° Online Hotel Management Software
Starting from Just $3.99 Per Room Per Month
Simplify Hotel Operations: Everything you Need in a User-friendly Property Management System on Cloud
No more jumping from one application to the other, eZee's all-inclusive Hotel PMS gives you complete control over your property along with uninterrupted connection with eZee's Restaurant POS, Online Booking Engine and Channel Manager.
Get all this on your fingertips in the eZee Absolute app
Walking in pace with the booming demand of our wide range of users, eZee went forth with developing the PMS application. Offering all the operations on your fingertips, the app brings easy access, swift navigation and effortless hotel management.
Connect with 100s of Online Travel Sites from Single Dashboard!
Utilizing latest technology, eZee's phenomenal hotel channel manager ensures your presence across 100+ travel sites. Assuring revenue growth with minimal overbooking, our system allows you to update real-time hotel rates & inventory on all connected booking sites as well as hotel website.
Bring in More Revenue, Boost Unlimited Hotel Website Bookings
Our end-to-end reservation system integrates seamlessly to the property website and allows your customers to book directly with you, from your website, hotel App and even your Facebook page, at any time from any device.
Gratify the Tech-savvy Guest Through Our Hotel Guest Self Service Portal
More than 80% of global travelers are using their smartphones for everything and the modern tech-savvy traveler expects that from their hotel as well. Through eZee's Hotel Guest Self Service Portal, you can offer exactly that and more. Giving your guest a great deal of accessibility, the guest portal allows them to request for a change in their booking, manage their profiles, check in, and more right from their mobile device.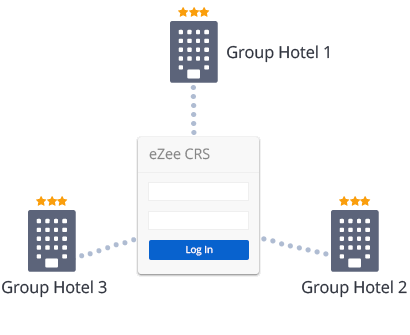 Regulate Multiple Properties from a Single Solution
eZee makes administering all your group properties as easy as a pie. The Central Reservation System takes care of all your reservations, online distribution information, consolidated reports and much more from a single window.
Magnetize Numerous Bookings with Unlimited Automated Emails
With eZee Hotel PMS, send out unlimited automatic pre-arrival, in-house & post-departure emails and boost your guest interaction with the hotel. Giving you an excellent opportunity to promote hotel services, increase guest engagement, build guest loyalty and ultimately enhance hotel revenue.
Get a Jump Start with an Effortless On-boarding Process
The first impression is always a lasting one and at eZee, our experts ensure that you always cherish your first experience with us. Providing you with immediate professional assistance, our on-boarding program includes swift online configuration of your hotel data with our system and offer unlimited online training at no extra cost.
Expand your World of Opportunities: 350+ Integration with 3rd Party Services
eZee offers an extremely scalable option of 3rd party integrations. Enabling seamless exchange of information between eZee PMS software and 3rd party solutions, our dedicated team ensures that our standard interfaces continue to meet the ever evolving standards of global hospitality industry.
Get Started Now!
Instantly receive the trial details in your Inbox
Have questions? Our 24x7 support team is dedicated to delivering you with a high-quality service, skillful consulting with little to no waiting time.