Central Reservation System
Centralized Bookings for All Properties
Through our Central Reservation System you can consolidate bookings for all your chain properties from a one location. That is you can confirm a booking a booking a Chain Property A while sitting at Chain property B. This is specially beneficial for serving on-call bookings and make informed decision while confirming a booking for a walk-in guest.
Dashboard for Revenue, Bookings & Visitor Statistics
Main Dashboard prominently displays real time data featuring reservation summary, current booking information, occupancy level, and daily/weekly/monthly revenue breakdown in easy to understand charts and graphs. It will take into account the bookings coming from various OTAs and display top performing list from the previous month.

Single Location to Manage Rates, Inventory and Bookings
A single login account gives you access to rates, inventory and bookings of all your hotels and you can switch between the hotels with a simple toggle feature. The Central Reservation System makes it easier than ever to manage rate and inventory of all of the properties. No need to handle multiple user logins, a single CRS dashboard gives you all the important information you require.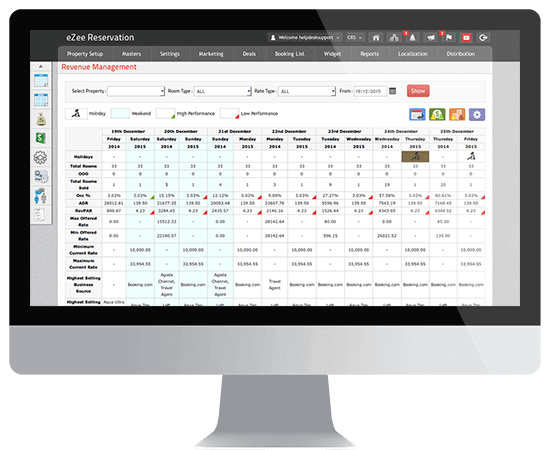 Remarkable Tool, Rate Management
To create the perfect pricing strategy that retains the desired profit margins and growth, you require a tool which gives you the freedom to revise rates according to the changing scenarios. eZee's rate management tool gives you access to comprehensive market behavior analysis to efficiently manage hotel revenue and increase returns. In addition, the management tool can even fetch competitors' prices for comparison by which you can tweak your rates for maximum profits. To give you a further edge in your pricing strategy, you can even compare previous year's date to evaluate the Best Available Retail Rate (BAR).
Don't Believe Us? Try it Yourself!