Mobile Friendly Booking Engine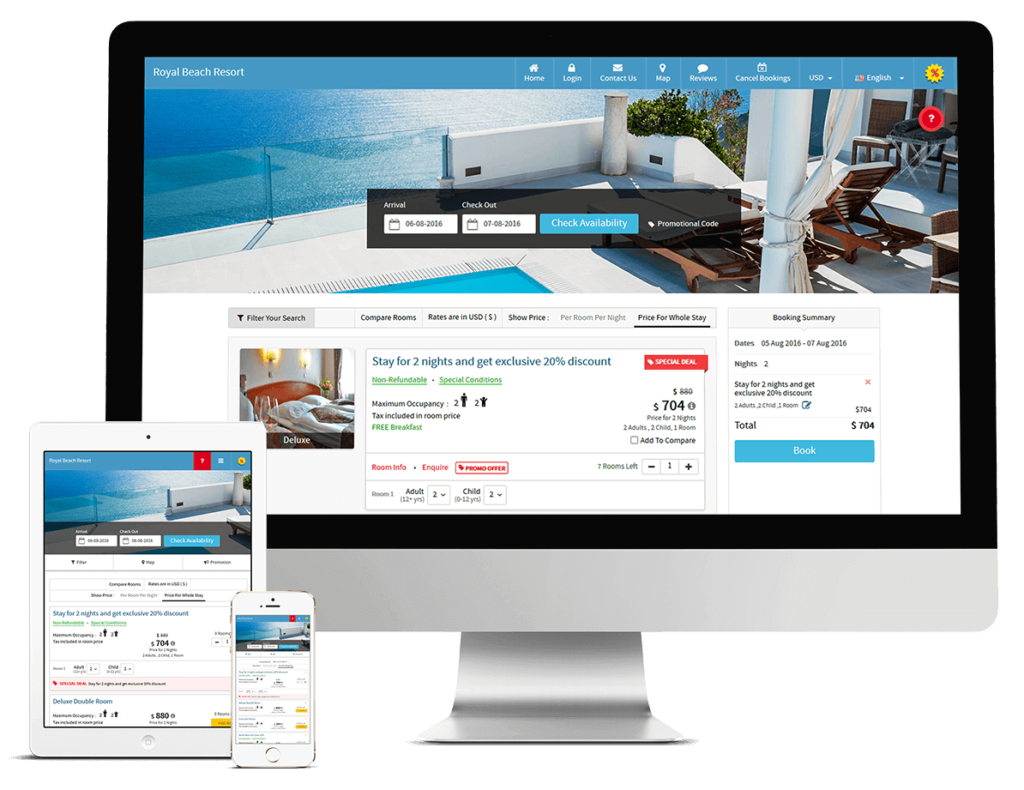 Responsive User Interface
Aiming to provide an optimal viewing and using experience, we toiled to create a responsive user interface in our booking engine. Our responsive interface works with all devices, so whether your guests use a desktop computer, smartphone or tablet, they will experience a flawless user experience. No scrolling and no screen resizing is needed from any device.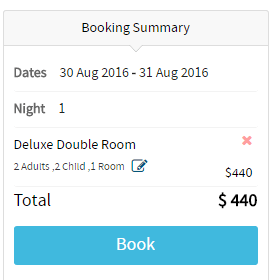 Easy to use booking flow
Having the primary priority as providing smooth reservation experience, we introduced an easy-to use booking flow, which means your guests do not have to go through multiple pages to see the payment summary. With our new, improved booking flow they can select the check in-check out date and the payment summary will appear on the first page itself.
Improved Room Listing
Better information management makes the room listing page more interactive and agile. That is what we have done with our latest version. Unnecessary information are removed and reviews, promo and other information are added that are actually relevant to the booker
Closest Availability
Going one step further with the option of availability calendar, we have also entailed Closest Availability feature, which means if a certain date shows room unavailability then Closest Availability feature will show booker the availability of rooms at the nearest date.
Enhanced Security
Security has always been a concern while dealing with online transactions. For this reason, we are giving your guests an additional sense of security and goodwill by making the entire booking flow more secured with https.
Search Filters
How easy it would get if room preferences could be sorted at one go? No more sifting through various pages. With our modified Search Filter feature, your visitors can have specific text search like Breakfast Inclusion , Free cancellation, Guest Rating, Refundable rate plans, etc. The advanced search filters are bound to make their user experience exceptional.
Compare Room Feature
Never proceed without comparing-the primary rule of a booker. Now get to compare 4 hotel rooms at a single page. The booker can have their pick based on parameters like amenities, review rating, gallery, price and other things that can influence their decision. Just imagine the kind of comfort it will bring along as your guests would be taking an informed decision without investing much time.
Improved Review Section
Review is an integral facet of decision-making for online booking. Considering this, we have enhanced the Review Section with unique tagging system. Now visitors can find reviews as per the tagging. They can filter reviews as per date, type of room, user rating, number of days stayed, etc. Furthermore, they will also have the provision to upload photos to their reviews, helping them to get more clear and honest information.
Availability Calendar
Prompt booking functions are directly related to an enriching experience. We understand this and that is why worked upon to introduce the concept of Availability Calendar. In this case, if there are no rooms on a selected date, your guests can see the next available date with just one click.
Don't Believe Us? Try it Yourself!