Hotel Channel Manager
Complete online distribution eco-system
Being in the hotel business, you are aware of the fact that managing the process of rates and inventory updates on distribution channels, maintaining rate parity, running promotions etc can be a nerve cracking process. No matter if you think the mighty OTAs are friends or foes, there is no denying that these travel sites bring an immense amount of business and they are here to stay!
To help you out, eZee's all-in-one solution, provides a cutting edge channel management system that makes it easier than ever to manage your hotel inventory across all connected distribution channels. The seamless connectivity between the hotel channel manager and OTA saves time and ensures a quick ROI.
A Single-point Dashboard for Managing All your Distribution Channels
Regardless of the number of channels you are connected with, eZee's online channel manager effortlessly manages all the channels and your online bookings from one place. You can take advantage of the centralized rate and inventory distribution system, as it not only helps you save valuable time but also prevents revenue loss due to uncertain errors! Additionally, the single point dashboard for distribution management helps in avoiding rate disparity and enhances hotel's online reputation by maintaining favourable relationship with various travel sites.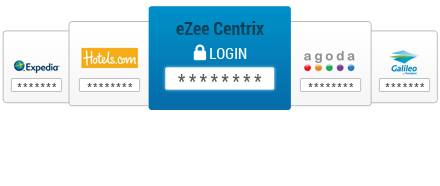 Instant Automatic Update Across All Channels
No matter how many distribution channels your hotel is connected to, eZee's OTA synchronizer allows you to instantly distribute entire hotel's rate and inventory across all the channels. Not only OTAs (Hotel Booking Portals), the hotel channel manager will also update the inventory across all connected meta search engines (TripAdvisor, Google Hotel Finder etc), Global Distribution Systems (GDS), hotel website and even the hotel Facebook page.
Vast Choice of Online Distribution Channels (Pool of Channels)
Associate with more than 100 International and regional OTA channels with GDS channels Amadeus, Sabre, Worldspan, Galileo and Pegasus to choose. Apart from that connect with 30+ rental vacation rental lodging websites like AirBnB, HolidayLettings and more.
Synchronization With Vacation Rental Portals
Vacation Rental OTA Assisting small accommodation owners up-sale small property and individual units (rooms, apartments, villas, etc.), eZee's online hotel channel manager also offers a seamless interface with vacation rental portals. The automatic synchronization of the Availability Calendar will substantially upsurge accommodation services and help up-surging sales and managing day to day channel management operations.
The robust online channel management system will offer lodging providers higher contingency for booking conversion while providing them an opportunity to enhance interaction and guest engagement
As of now, the channel manager is affiliated with more than 30 rental lodging websites and new channels are added regularly.
Rule-based Automated Rate Changes (Demand Based Vs Rule-based)
The key to yield maximum revenue is to sell the correct room at the precise rate. According to market position and pricing conditions set by you, the channel management software automatically derives the perfect pricing strategy and evaluates the BAR (Best Available Retail Rate). Example, during weekends, festivals and peak seasons, the hotel channel manager will automatically hike the hotel room prices by 15% if the occupancy rate more than 60% and slash the prices during the low selling season.
Minimal Overbooking
Overbooking is a disruptive issue for hotels, where more rooms of a particular room type are reserved by the guests than what is available at the property. Example, you have 1 deluxe room available at your property which is connected to 5 OTAs, a traveller books the deluxe room at your property via the travel site. However, unaware of the incoming online booking, your front desk staff reserves the room for a walk in guest. In such cases when both the bookers show up at the hotel demanding their reservations, hotels either have to heavily compensate the guests or get them accommodation of similar or higher value.
Overbooking occurs due to numerous factors, and unlike many other available channel managers, eZee doesn't provide a false pretext of zero overbooking but ensures that hotel will rarely face the issue of overbooking. Using the technology of 2- way XML connectivity, eZee's channel manager instantly updates the revised availability across hotel's PMS, distribution sites and the hotel's website and ensures minimal overbooking at the hotel.
Maintain Rate Parity without Any Effort
Partnerships with online distribution channels like Expedia, Make My Trip and booking.com makes is mandatory for hotels to maintain rate parity across all channels. That means, regardless of what commission you pay to different OTAs, you need to publish the same rate for the same room across all distribution channels, even at meta search sites like TripAdvisor, Google Hotel Finder. eZee's hotel channel manager ensures that every time you make a change across the board, the system automatically updates it across all channels effortlessly leaving no room rate parity issues.
Monitor your Competition Rates with Rate Shopper Tool
Through the Rate Shopper Tool, eZee's online hotel channel manager offers you an opportunity to easily monitor your competitor's inventory rates. Sourcing from various distribution sites, the competitor analysis tool draws critical real-time information of competitor's rates, that helps you figure out the best pricing strategy for your property. Not just that, but the tool also lets you compare the performance of your competitors. As a result, you can adjust your room rates at any given time to achieve maximum profitability.
Maintain Rates and Inventories when On the Move
Even when you are on the move, eZee's channel manager allows you to monitor your hotel's online sales, update inventories or even stop sale with a touch of a button with your smartphone. No matter where you are, through eZee's distribution management system at any given time, you can change rate and inventory right from your mobile instantly and the system will update it automatically in your hotel PMS and all the connected channels.
Complete Integration with PMS and Booking Engine
Integrates with Property Management System (PMS) and Online Booking Engine which creates seamless connectivity. The absence of this interface can lead to overbooking issues as the listing hasn't been updated with the latest inventory or loss of revenue as the booking is missed due to available inventory not updated online.
Additionally, as a part of an all-in-one solution, the flawless interface between eZee solutions, ensures instant and automatic delivery of revised inventory to the PMS and booking engine. Moreover, the long drawn process of creating an interface with 3rd party PMS and booking engine involves a lot of back and forth communication with them, that can also result in affecting the quality of the integration.
Designated Account Manager
We provide you a dedicated account manager, who will exclusively look after your property's channel partner needs. With his expertise, the account manager will not only guide you with implementation and training but also offer you after-sale support, helping you optimize the channel manager to the fullest and get a quick ROI.
Utilize Full Inventory Efficiently
As a result of seamless connectivity with various travel sites, our hotel channel manager makes it feasible to manage live rates and inventory across all connected channels and the hotel's website. Since all updates are made in real-time, the property can utilize entire inventory of available rooms without ever having to worry about overbooking and loss of sales.
Analytics
The consolidated reports generated by the channel management software, show real-time data allowing hotels to get a live analysis and better strategic planning. The channel manager collects all the relevant data and allows hotels to create reports such as Revenue Analysis-OTA wise, revenue monthly breakdown, channel wise bookings etc. All the relevant information can be accessed anytime and is presented in an easy to understand format.
OTA Commission / Billing Management
A hotel is associated with various travel agents and travel sites to attract more guest and all of them have a different commission agreement with the property. Every time a guest confirms a booking at your property through these online travel agents, our hotel channel manager automatically fetches the agreed commission rate with the OTA and generates the bill accordingly. Eliminating the errors of manual calculations, the channel management system will provide you with all the details of the particular OTA in a ready format.
Roll Over Date Update
The allocation calendar in eZee's hotel channel manager runs up to 2 years. On the other hand, the calendar in OTA is only available only for a year. To ensure that your property remains bookable at least up to the next 365 days from the current date, our channel management performs a date roll over on a daily basis. For example, in the channel manager you configure your property's inventory up to 2 years, however on the OTA your property is available only for a year. In the back-end, the channel manager changes the date in the system on a daily basis, due to which the next day is processed as a new year. In the meanwhile, the channel management system will fetch the pre-configured rates and inventories of the property, synchronize it with the OTA calendar keeping the property available for the entire year.
Stop Sale
The "Stop Sale" feature is for those occasions where you are running low on inventory; for example, you have a sudden requirement for a group booking and you want to use the inventory which is currently live on OTAs. Just with a single click, you can stop the sale of that inventory distributed across all the channels and use that inventory for group booking.
Master and Derived Rate Plans
Similar to major distribution channels, eZee's channel manager also configures the master rate plans with the derived rate plans. As a result, any alterations in the master plan automatically updates the rates and inventory to the derived rate plans as well.
Foreign Currency Rate Updates
In case the hotel's local currency is different from the currency utilized by OTA or the guest, the distribution management offers the facility to easily manage the foreign currency on OTA, while the system operations run on local currency in accordance to the current exchange rate.
API for Interfaces
eZee's online channel manager is designed with an industry-standard compliant API, which allows the system to seamlessly integrate with various 3rd party solution. According to your convenience, we can even establish interface of our channel manager with your existing or preferred 3rd party hotel software and booking engine
Audit Logs
To ensure the security of your hotel data, the channel manager maintains an audit log that tracks all the changes and revisions made in the system. As of now, there are 3 different types of audit log available with eZee's channel manager. The transaction log displays each transaction along with the information of the user who triggered it. Any changes or updates for rates, inventory or stop sale is stored and viewed in rates and inventory logs. The master logs will give you access to view the changes made in the master module for critical operations where any user added, updated or deleted anything according to user wise.
All-in-one Channel Manager not Just an Integrated Solution!
All eZee products are developed with the complexity and demand for inter-connectivity in the hospitality industry. Unlike most channel managers that are integrated with 3rd Party PMS and booking engine, eZee's all-in-one solution offers a cutting edge channel manager with a flawless integration with eZee Absolute and booking engine.