Statistics, Reports & Logs
E-commerce / Google Statistics
eZee's booking system can be integrated with your Google Analytics account through which you can easily monitor your visitor rates and compare them with the system generated visitor statistics. In addition, you can set up goals and see the progress of the goals over a period of time. Furthermore, the system is compatible with your Google Adwords account giving you clear idea about bookers coming through your Google Advertisements.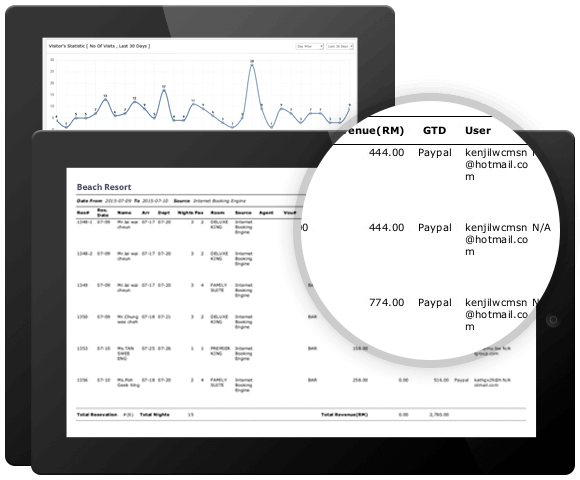 Reports
Get complete breakdown of all the front-end and back-end operations of your hotel from reports. Diverse set of reports can be generated in the system as per the requirement, from arrival list to cancellation reports to revenue related reports and reports giving you reservation statistics for Mobile, Desktop and Facebook. Giving you complete 360-degree picture of your hotel that enable you make better decisions and revise operational efficiency.
Logs for All
Transaction Logs
Every single transaction in the system is tracked and stored in the logs, you can view which transactions was triggered by which user. This keeps process in check and increases accountability among staff.
Rate & Inventory Logs
Changes or updates for rates, inventory or stop sale made in the system is stored in dedicated logs. These logs can be viewed in the system; and alerts can be set to receive the modified logs on your email.
Master Logs
The master log gives you access to view the changes made in the master module for critical operations where any user added, updated or deleted anything according to user wise.
Visitors Statistics
Main Dashboard prominently displays real-time data featuring reservation summary, current booking information, occupancy level, daily/weekly/monthly revenue breakdown in easy to understand charts and graphs. It will take into account the bookings coming from various OTAs and display top performing list from the previous month.

Guest Stats
Being a property owner, you ought to know your property's most demanded features and take utmost advantage to increase revenue. Supporting you in identifying your property's most looked upon feature, eZee's booking system offers you detailed guest statistics, giving a complete breakdown of how the booker is engaging with your property website. Additionally, the booking system provides you with details such as which country the booker is from, total session time, type of device used for accessing the booking engine (Desktop, Tablet, Mobile), searching criteria for checking availability and when actually the booking was made. Monitor which package/rate plan the booker preferred, selecting which payment mode and currency to make the payment. You can also keep an eye on how much time was consumed in the booking flow i.e. Check Availability -> Select Room -> Book Now and also see where the booking was abandoned.
Browser Breakdown
Browser wise total number of visitors.
Desktop Vs Mobile Booking
Device used by the visitors.
Single Vs Group Booking
Data of number of single and group bookings received.
Language Statistics
Properties that provide the option of multiple languages can see the stats for checking most used language option.
Payment Mode Statistics
Properties providing more than one options for booking statistics will show number of reservations who made the payment using Manual Credit Card Processing, Booking Inquiry, Payment Gateway or Normal.
Business Source Statistics
Breakdown of number of bookings received from different business source such as Website, Travel Agents, Channels, Advertisement reservation screen and Walk-ins.
Don't Believe Us? Try it Yourself!