Check Availability
Through the simple and elegant User Interface of eZee's online PMS, we offer you various unique views along with complete information of rates and availability of rooms at your property. As a result, you can easily track and manage all the reservations at your property and escalate hotel revenue.
Tape Chart Interface (Stay View)
The tape chart view provides you with an easy view of details like room status, availability, out of order rooms, future bookings and more for specific date range.
Room Interface (Room View)
Room View will give you a detailed display of all 'up to the minute' status of all the rooms at your property.
Statistical Interface (Quick View)
The quick and efficient static interface provides you with a statistical as well as a graphical live summary of all the rooms and inventory.
Unified Dashboard
Easily keep a track of all the transaction taking place at your hotel including checking rates and availability, current bookings and more right from the dashboard.
Availability and Rate Chart
While at the hotel front office, one of the most important that you require is the rates and availability of rooms at your property. eZee PMS gives you all this data and more right at your fingertips, including specific searching criteria displaying all available inventory with their rates and seasonal rate chart as well.
Reservation Management
Managing reservations is one of the most crucial part of running a hotel business. Our system brings a new level of simplicity and efficiency in the operations without compromising on the quality of service.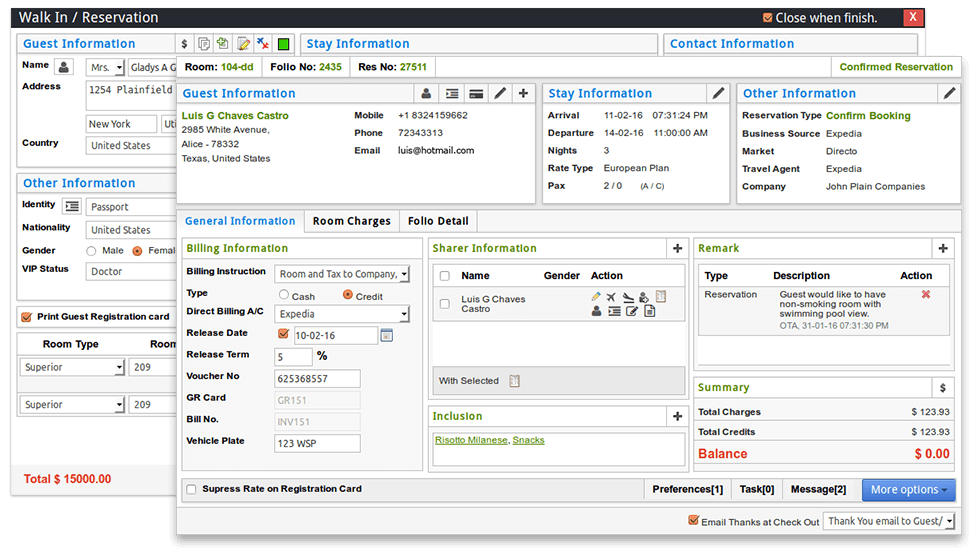 Search Reservations from Single Window
Fetching all reservation details and combining different filters for various reservation, our system gives you the most accurate search results and allows you to process all reservation guest queries with utmost certainty.
Common Interface to Manage all Bookings
The single interface of eZee software allows you to manage all types of Reservations, Walk-Ins and Group Bookings with ease.
Guest Profiling
Aiding you provide a better service to returning guests, our system retains all guest details including details like preferred room or any specific request.
Best Rate Management
Creating the perfect pricing strategy, our PMS allows you to offer revised room rates according to the changing market scenarios. You can easily manage diversified rate plans for your direct as well as indirect guest, corporate clients, travel agents, group bookings etc. and evaluate the Best Available Retail Rate (BAR).
Get Reservation Affirmation
Some guests make a booking inquiry and later confirm it. On the other hand, a majority of the guests pay a deposit amount to confirm their reservations. The flexible features of the system easily manages the advance deposits and confirms their bookings.
Cancellation / No Show
If the guest cancelled their reservation or did not show up at all, don't fret, a single click will take care of that booking and the system will automatically update inventory across the channels and your hotel website. Based on hotel policy, cancellation/no show fees can be effortlessly levied.
Policies for Reservation Release
A reservation is automatically released on non-payment of deposit by release date. For example, if a guest has agreed to pay the deposit amount for confirming a booking before arrival and he fails to meet the commitment, in such cases you can release the reservation for other guests, ensuring no loss of revenue.
Reservation with Minimum Information
Keeping in mind the complexity of different types of bookings, eZee software has kept booking flow as simple as it can get. You can create a booking with the minimum required details such as date of arrival, check-out date, room type and contact information while adding the rest of the details later.
Automated Booking Confirmation
System shoots automated confirmation via Email or SMS to confirm bookings. The front office staff can even print a hard copy for walk-ins or any guests who request it.
Book Multiple Rooms at Once
Through our online PMS, creating a group booking is as quick and simple as a singular booking. Once you enter the basic information, multiply the booking with the desired number of rooms. If required you can easily edit all the copied booking simultaneously on the same screen.
Book a Room or a Room Type
Leaving no room for error during the booking process, the system facilitates swift room booking by allowing you to choose room number, room type or even a combination of both.
Managing Special Request
Easily keep a track of your guest's specific needs and special requests like pick up / drop off information or special meal plans.
Sales Analysis to Increase Sales
Our PMS has a provision for a binding market segment and business sources with reservations which helps hotelier to track market behavior and business sources for sales analysis.
Flexible Group Management
Favoring you to take advantage of group bookings, eZee's online hotel management system allows you to carry out group bookings from a single point. Assisting you further, you can easily perform various operations associated with reservations such as Group Check In, Group Check Out, Group Amend Stay, Group Payments and more.
Various benefits of Group bookings include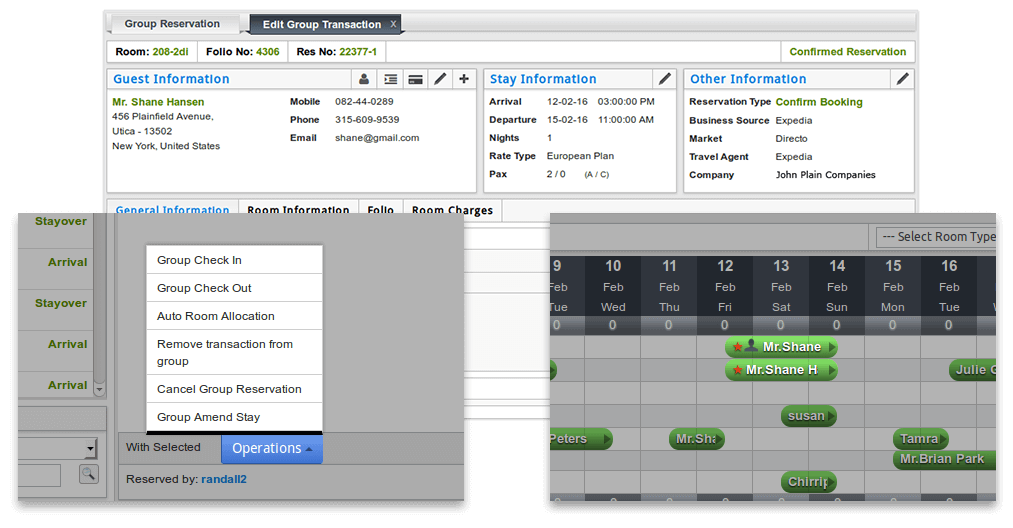 The process of multiple room booking is as simple as a single room booking.
Quickly copy of guest details to all rooms in the group.
Add distinct visibility to group owner for effective communication.
Add distinct group color for easy group identification.
In one click the Auto Rooming feature automatically assigns rooms to the entire group.
Swift group check-in for the entire group.
Allows you to apply charges to a group owner invoice as well as to individual reservations.
Filter group reservations with group code.
Send group confirmation voucher with just a single click.
Easily route charges to corporate or personal accounts.
Any deposit collected for the group is shown depicted in the master folio.
Swift cancellation procedure allows you to cancel whole group booking once you collect the cancellation fees as per hotel's policy.
Group No Show[Coming Soon] allows you to mark the whole group as 'No Show'.
Provides flexibility to add, remove or change rooms from the group.
Extensibility in managing group payments from one screen.
Print group proforma and group invoices in multiple currencies.
Managing the task of group check-out is easier than ever, even the tricky tasks of accumulating charges or managing payments of separate rooms.
Offer Self Registration to the tech-savvy bookers through our Mobile Guest Portal.
Don't Believe Us? Try it Yourself!