Attract the Tech-savvy Bookers Through our
Hotel Guest Self Service Portal
Hotel Bill on Mobile
Using the Hotel Guest Self Service Portal, your guest can easily check their estimated bill anytime right from their mobile device.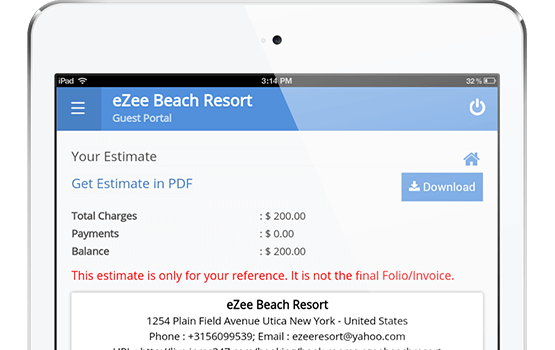 Logistics and Transport Services
Not only provide a satisfying guest service, you can even increase revenue by encouraging your guests to utilize other hotel services such as transport facility. Your guest can request you to arrange for a pick up facility provided by hotel before arrival as well as drop off facility at departure.
Managing Group Reservation is Now a Piece of Cake
Along with regular bookings, our remarkable guest portal allows you to effortlessly manage your group request by just switching to reservations in group. On reservation request, group owner can manage whole group requests whereas group individuals can manage their own reservation request.
Tech-savvy and Mobile Friendly
eZee's guest portal has been designed keeping the technologically advanced modern traveler in mind. Thus it can be easily accessed from mobile, tablet as well as Kiosk device. Giving your guest complete freedom to operate it from any device while bringing no financial burden on the hotel itself.
Enhance Hotel Service, with the Help of Guest Reviews
Using the guest portal service, collect your guest's feedback regarding their experience with you. The reviews can be done via rating or text reviews, but the guest can review you only once either before, during or after their stay. The information is then presented conveniently in graphical as well as statistical data in your online PMS so you can modify your service accordingly.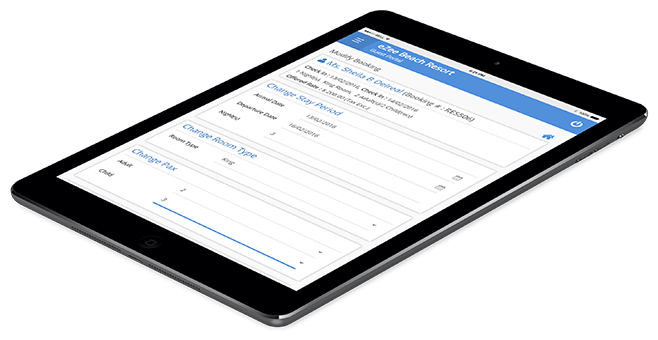 Time is of Essence, Take Immediate Action on Guest Queries
We understand that to achieve highest guest satisfaction, you must offer an exceptional guest service. Using the Hotel Guest Self Service Portal of eZee PMS, allow your guest to modify their booking, room type, number of arriving guests or even cancel their booking if need be. The portal updates the front desk staff regarding the modification in real-time allowing you and your staff to take immediate action on all those request.
Avoid the Long Waiting Time at the Reception, Opt for Self Check-In Service
Allow your guest to easily register themselves while providing all the necessary details to check-in at the property to avoid the waiting time at hotel reception or even request for additional facilities such as pickups service, meal preparation etc. Additionally, through this service you can enrich guest service by ensuring that the guest room is ready prior to their arrival.
Help yourself, Ask your Guest to Build their Profile
Using eZee Hotel PMS, allow your guest to fill up their own profiles, which will in turn help you with easy and accurate guest profile management. Furthermore, your staff can use this information to provide an exquisite service to your guest by pre-prepared meals or upsell other hotel services.
Plan Guest Itinerary with Ease
All requests made by guest using this portal are recorded and presented as the detail plan of their stay in timely manner showing their request updates with needful comments. Just with one link and PIN code login, view all your request updates, helping you to plan their stay with ease.
Provide your Guest the Exact Route to your Property
Through 'Find Hotel on Map' your guest can easily get the directions to find the exact location to your hotel few hours prior to their scheduled arrival.
Offer your Guest the Best on the go Services
To benefit from our unique Hotel Guest Self Service Portal, all your guest will need is the link to the portal and a PIN they receive at the time of their booking confirmation.
Don't Believe Us? Try it Yourself!