eZee Absolute-Supplementary Features
Profile Management
With the help of eZee Absolute, you can easily manage multiple guest profiles as well as effortlessly maintain various booking sources such as travel agents, room owners etc.
Corporate Guest Profile
Facilitating your corporate guests, you can create a custom company profile which will store all the information of all your guests associated with the company. You can easily identify and efficiently manage any company's guests at your property.
Room Owner Profile
If you wish, you can even manage the rooms by room owner's profile in which rooms are assigned to owners and are paid commission for the revenue generated by those rooms. As these owners are considered as investors of the property, the hotelier is bound to pay the commission to the room owners.
Travel Agent Profile
Online Travel Agents (OTA) have become an integral part of a hotel's online business strategy as they have proven to be an extensive source of bookings. By managing Travel Agent accounts, the software lets you calculate the commissions, track pending payments and manage their invoices. Consequently, this will significantly reduce the time consumed over phone and email inquiries for commissions.
Business Source Profile
Organizing various business sources profiles, helps you in effectively maintaining records of all the transactions between your hotel and various third party services associated with it, such as car rentals, travel agents(OTA) etc. Besides, it simplifies the business by separating payments completed by the hotel and due amount to the agents. Moreover, it allows you to apply special tariffs for particular business sources and reserve rooms for specific travel agents. Accordingly, you can even maintain an ideal business relationship with your sources and upsurge the growth of your property.
User Privilege & Security Control
Create multiple user accounts and divide your front office task amongst them. eZee Absolute allows to you create numerous user accounts accessing the system simultaneously. Additionally, you can also add an extra level of security by providing user level access privileges restricting the staff access to sensitive data.
Email Marketing and Scheduling
Boost your guest engagement with the help of our pre-arrival, in-house & post-departure email service. Promote local attractions, exhibit hotel services, collect guest feedback and thus encourage personalized communication and build guest loyalty.
Pre-arrival and Post-departure Emails
eZee's online reservation system gives you the facility to send out automatic emails ranging from pre-arrival to post-departure for enriching guest engagement. These emails can be opportunities for the guests to change their bookings, guest satisfaction surveys, bring back emails and more.
Promotional / Newsletter Emails
The system allows you to send out promotional emails with special offers and secret codes to your guests. Once you set the conditions, the PMS will automatically pick up the guest email from the database, publish the promotional campaign attracting more returning guests. In addition, you can send out secret deals to your regular guests and another campaign to others with special promotions.
In-House Emails
The automatic emails can be sent to the in-house guest to update them regarding the hotel renovations, today's menu, passing important information to guest etc.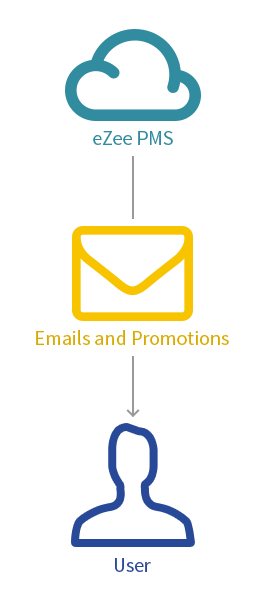 Don't Believe Us? Try it Yourself!