eZee Absolute covers a wide range of reports offering insight into all aspects of your hotel operations. From occupancy and housekeeping to channel distribution and analysis, we have it all.
Elaborate & Advantageous Analytics
Along with an extensive amount of detailed reports presented with self explanatory charts and graphs, the rich analytical aspect of eZee Hotel Software also offers the facility of exporting the printer friendly reports to Excel spreadsheet.
Consolidates Report for Chain of Hotels (CRS)
Combining all your chain properties, the CRS functionality of phenomenal reservation system allows you to view and manage all your reservation and inventory reports from a single panel.
Clear Guest Reports
Effortlessly access daily reports of reservation, guest arrival, check-in, guest check-out, etc at the end of the day. Helping you to analyse your day-to-day bookings and thus aiding you to form strategies and widen your clientele.
Detailed Sales Report
Avail the benefits of detailed sales reports offered with eZee Absolute. Containing numerous reports such as Travel Agent commission Reports, Revenue reports, Miscellaneous sales, and more; eZee Absolute helps you with your property's expense management and revenue calculation.
Audit Reports
Keep track of all the audit trails and changes made by the staff with reports on Voids, Change in Rates, No-Shows, Reservation Changes, Change in Room Charges and many more. In addition, you can assign specific access rights to staff with User Rights function, allowing for a greater control over your business.
Housekeeping Management
Easily generate reports of Arrival List, Departure List, Maintenance Work Order, House Keeping Room Assignment lists and other important reports for your house keeping staff. Other reports on guest check-in time, check-out time and guest preferences allows the staff to prioritize their work more efficiently.
Tax and Accounting Reports
Get access to accounting reports such as Daily Receipts, City Ledger, Travel Agent Commission Report, Guest Ledger, Advance Deposit Ledger, Invoice List and Tax Report meeting all your accounting needs.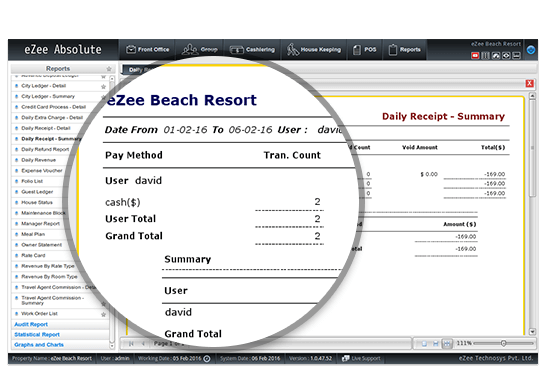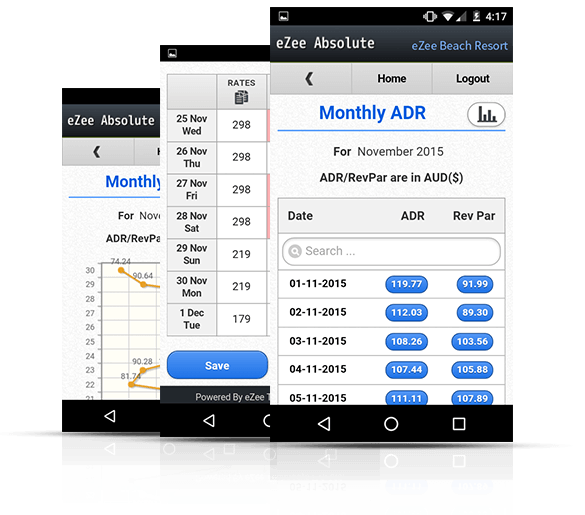 Mobile Reports
At eZee, we keep up with the latest technology, we comprehend that this is the era of smartphones. Thus, our hotel management solution also allows you to receive all the reports on your mobile device, which can be viewed in statistical as well as visual format. You can also check your reservations and update inventory on all the connected OTAs right from your mobile.
Don't Believe Us? Try it Yourself!